What is a Wi-Fi integrated microinverter solar system? And why do you need one?
To get the most power from your microinverter solar system, you'll need to keep a close eye on what's going on inside it. How efficiently is it converting power? Are there any technical issues you should be aware of? Are there ways you can adjust it to optimize that power conversion?
To help you get the answer to these questions – and maximize the ROI you get from your solar installation – your microinverter will connect to a solar monitoring system, where you can monitor, manage and troubleshoot your installation.
A microinverter can communicate with the solar monitoring system in two ways: via an independent communication gateway, or via a Wi-Fi module built into the microinverter that connects directly to the internet.
But how exactly does this work? Why would you choose a Wi-Fi integrated microinverter over one with an independent communication gateway?
Let's explore the answer to those questions – and how can you find the best Wi-Fi integrated microinverter for you.
How do microinverters communicate with solar monitoring systems?
So, we've established that microinverters need to link up efficiently with solar monitoring systems. Let's take a moment to explore the two ways that different types of microinverters can establish that connection.
Communication gateways
Usually, a microinverter needs a communication gateway in order to collect solar data and transmit it to the monitoring system. This gateway is essentially a hub that connects the microinverter with the cloud.
At Hoymiles, we call our gateway a 'data transfer unit' or 'DTU'. It's designed to bring together all of the useful, real-time data you need to know your microinverter is working and to detect any potential faults.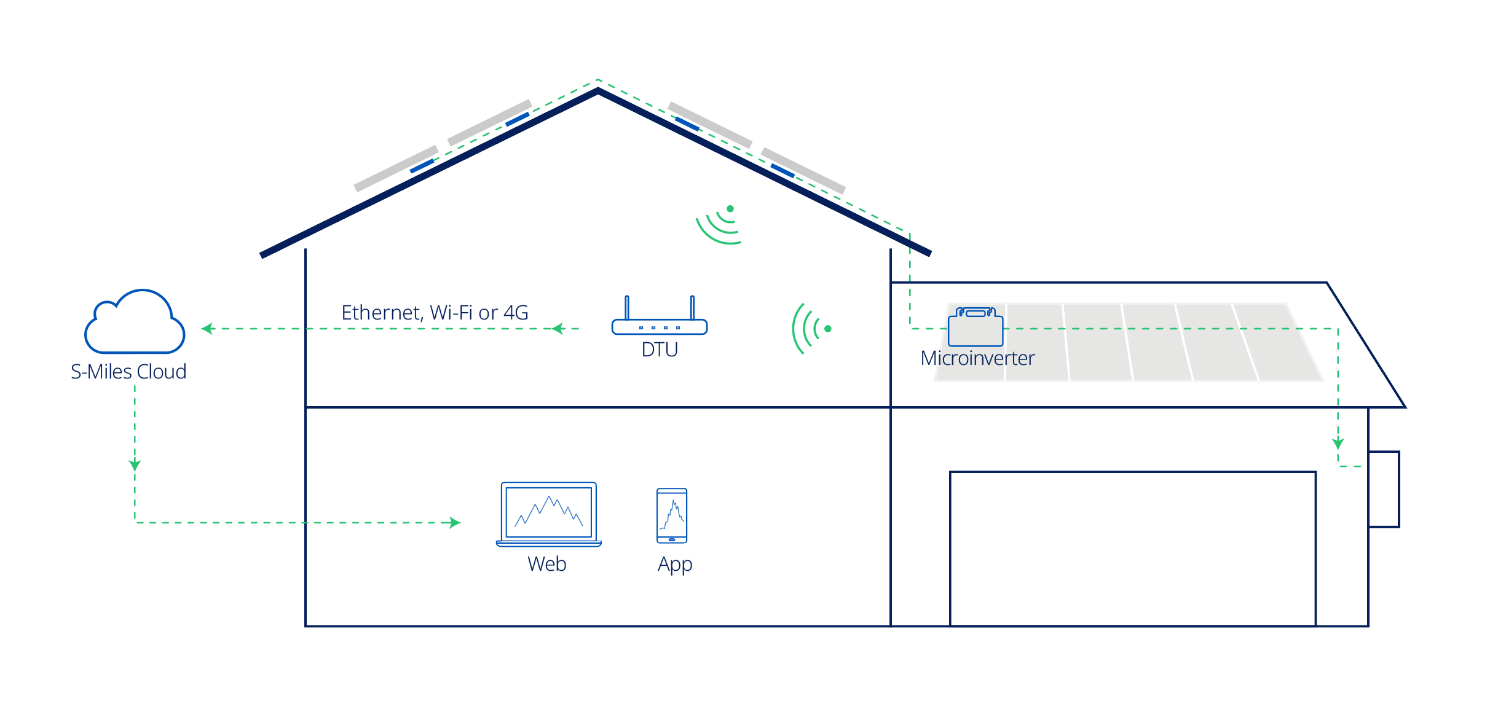 The most important feature of a DTU is its stability; you need to know that your gateway is reliably, consistently collecting data and transmitting it over the internet to your solar monitoring system. That way, you can make data-driven decisions that maximize the ROI of your solar system, knowing that you have all the up-to-date data you need.
A communication gateway can connect to the microinverter in two different ways:
Via a wireless network like 2.4G and Sub-1G
Via power line communication (or PLC), where data is transferred over existing power lines
Wi-Fi integrated microinverter
A standard DTU has the capacity to support dozens of microinverters (depending on your installation conditions). So, if you only have one or two microinverters, you would still have lots of capacity left over – which means you'd be wasting money on capacity you're not using.
That's why, for smaller solar systems Wi-Fi integrated microinverters can be a more efficient option. These microinverters have a built-in Wi-Fi module that connects directly to your router instead of connecting via a gateway device.
This makes it a good cost-saving option for smaller solar systems where you'll only be using a few microinverters.
What makes a reliable Wi-Fi integrated microinverter?
Building a Wi-Fi integrated microinverter is technically demanding. And, considering that one fault could mean the loss of your data, your manufacturer needs to go above and beyond: the microinverter must have been built to the highest standard, the materials used must be highly reliable, and it must have a sensible and durable circuit design.
When you're looking for a Wi-Fi integrated microinverter, make sure you consider:
Temperature endurance: The internal temperature of a microinverter can reach up to 95°C – which is problematic, because most Wi-Fi modules start to malfunction at 85°C. If you want your connection to survive the heat, make sure your microinverter has a Wi-Fi module that's built to withstand higher temperatures.
Weatherproofing: Some Wi-Fi integrated microinverters come with an external antenna that needs to be glued in place when your solar system is installed. But microinverters are normally placed outdoors – which means that the glue (or other adhesive) holding the antenna in place can begin to crack as time goes by, making your microinverter more vulnerable to water damage. Even the smallest crack could break the entire system. Instead, look for a microinverter that comes with the antenna already attached – that way, you won't have to worry about leaks ruining your connection. A module with an integrated antenna is simpler to install too, so you'll be up and running much faster.
Strength of connection: The quality of your Wi-Fi module can have a huge impact on the stability of your connection, so look for a manufacturer that invests in the best and most robust modules.
Compatibility: Different Wi-Fi modules are compatible with different types of routers. So make sure you choose a microinverter that's compatible with a wide range of routers – which makes it much easier to get your connection up and running.
How is the grid divided in the US?
The US electricity grid is not actually one grid but is made up of three major grids covering three regions. This is mostly due to the sheer scale of the country, with a total of almost 4 million square miles to cover. The three major electrical grids in the US are:
The Western Interconnection – covering the area from the Rocky Mountain states to the Pacific Ocean.
The Eastern Interconnection – covering the states located east of the Rocky Mountains.
The Texas Interconnection – covering most of the state of Texas, the largest state in the Lower 48.
Within these three regions, the grids are divided up further into many smaller grids serving specific areas of the country.
How do you know if a Wi-Fi integrated microinverter is right for you?
So, how should you choose between a communication gateway vs built-in Wi-Fi?
You'll need to think about:
The size of your installation
If you're building a smaller home solar system that only needs a few microinverters, using microinverters with built-in Wi-Fi is definitely the most cost-effective solution.
Using built-in Wi-Fi also makes smaller solar systems much simpler to install. Independent gateways need to be installed indoors after the rest of the installation is finished, but Wi-Fi integrated microinverters don't have this extra component; everything is installed on the rooftop, with no need to set up a gateway inside the building.
However, if you need to install a large-scale system that uses many microinverters, an independent gateway is likely to be the most efficient and cost-effective solution. An independent gateway has a wide monitoring area, so it will easily be able to transfer data from a large number of microinverters without buckling under the strain.
The capacity of your router
It's important to remember that every new Wi-Fi enabled device on your property puts more pressure on your router. So, if you already have lots of devices in your home connected to the internet, your router might not be able to handle the strain of built-in Wi-Fi microinverters, too. If this is the case, a communication gateway might be the best option.
The most reliable way to connect
The clue's in the name: Wi-Fi integrated microinverters can only transfer data via Wi-Fi. So, if you're building your solar system in an area where your Wi-Fi connection is patchy or weak, you might not want to rely on it to transfer that precious cloud data.
If this is the case, you might want to look into an independent gateway instead. DTUs can use ethernet, a 4G cellular connection, or Wi-Fi to transmit data, making them much more versatile and reliable in situations where Wi-Fi isn't reliable.
The reliability of the microinverter design
As we've discussed above, Wi-Fi integrated microinverters can be much less reliable if they're not designed and built to the highest standard. Make sure you can access a microinverter with a Wi-Fi module that's weatherproof, compatible with a wide range of routers, and resistant to high temperatures.
Here's a table to help you weigh up the right type of microinverter for your installation.
 

Communication gateway

Wi-Fi integrated microinverter

Applicable setting

Small- and medium-sized home projects

Commercial and industrial projects

Small home projects (usually with one or two microinverters)

Data collection distance

Microinverters can be placed further away from the router.

The monitoring distance depends on the range of the router, so they need to be installed as close to the router as possible.

Communication

Wi-Fi, Ethernet, 4G (cellular)

Wi-Fi only

Installation

Gateway should be installed indoors after the whole system is finished.

No need to install an extra device indoors. Everything is installed on the roof of the building.
Communication gateway vs. built-in Wi-Fi: what's best for you?
Both built-in Wi-Fi and communication gateways have their benefits. It all comes down to the needs of your solar system.
The most important thing is to find a solution that gives you complete confidence in your connection – whether you choose to use a communication gateway or a Wi-Fi integrated microinverter.
At Hoymiles, our Wi-Fi integrated microinverters are built to last. With completely integrated, industry-standard Wi-Fi modules, designed to withstand temperatures of up to 105°C, they'll help you maximize efficiency without breaking the bank.
Head to the Wi-Fi integrated microinverters page to find out more.