Reboot 2021: 8 exhibitions with all our latest releases
After a successful first half of the year including our visit to SNEC 2021, we're thrilled to announce a busy schedule for the next six months.
From Brazil to Germany, we'll be heading to eight of the world's biggest photovoltaic and solar events between now and the end of October. And we'd love to see you there.
Other than SNEC, it's the first time since the COVID-19 pandemic that we're able to meet new people, reconnect with old faces and showcase our latest innovations in person. If you're attending, be sure to pay us a visit!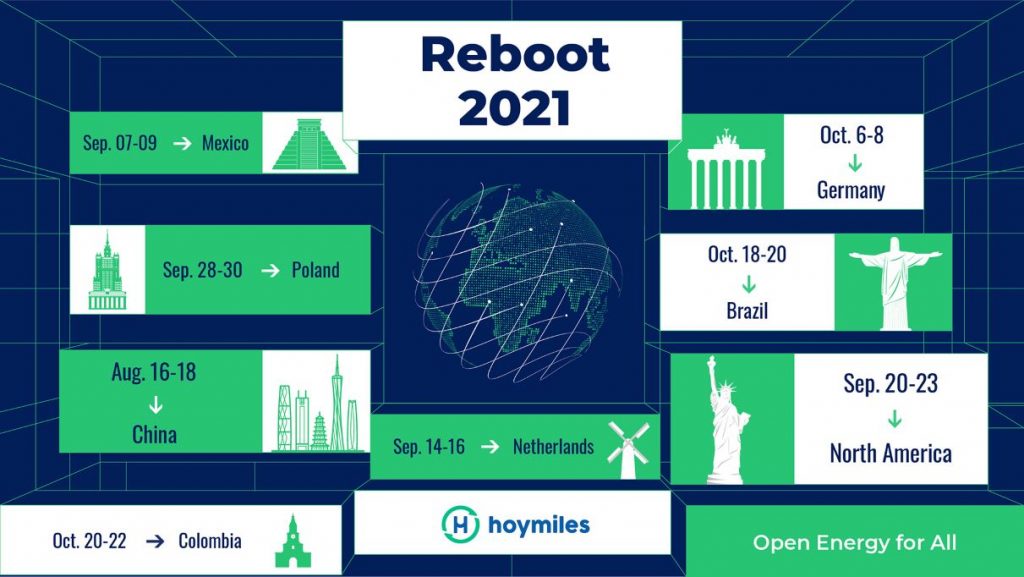 A busy schedule taking open energy to the world
Across eight events, we'll be offering a first-hand look at some of our latest releases, as well as sharing our expertise and advice wherever we can.
| August 16th-18th | September 7th-9th |
| --- | --- |
| Solar PV World Expo 2021 | The Green Expo 2021 |
| Guangzhou, China | Mexico City, Mexico |
| | Booth #1124 |
| September 14th-16th | September 20th-23rd |
| --- | --- |
| Green Power 2021 | Solar Power International 2021 |
| Poznań, Poland | New Orleans, USA |
| Booth TBD | Booth #5154 |
| September 28th-30th | October 6th-8th |
| --- | --- |
| Solar Solutions International 2021 | InterSolar Europe Restart 2021 |
| Amsterdam, Netherlands | Munich, Germany |
| Booth #D9 | Booth #B4.250 |
| October 18th-20th | October 20th-22nd |
| --- | --- |
| InterSolar South America 2021 | ExpoSolar Colombia |
| São Paulo, Brazil | Medellín, Colombia |
| Booth #D2.17 | Booth #H1 |
As the world continues to reboot after COVID-19, keep an eye on our website and social media – we'll keep you updated if exhibitions are cancelled, postponed or rescheduled.
See our latest releases in person
One of the new products we'll be sharing around the world is our new line-up of microinverters designed for high-power solar panels. These include HMS-2000 (4-in-1), HMS-1000 (2-in-1), HMS-500 (1-in-1) and HMT-2250 (three-phase) – all ready to make the most of 182mm PV modules.
We'll also be presenting the innovative DTU-Pro-S data transfer unit with Sub-1Ghz wireless for faster, more stable connectivity.
We're confident you'll find the right product for your next installation. Pay us a visit and we'd be happy to guide you through your options – and what the high-performing, high-yield installations of the future look like.
Check out highlights of our newest high-powered products
| 1-in-1 HMS-500 | 2-in-1 HMS-1000 | 4-in-1 HMS-2000 |
| --- | --- | --- |
| One of the highest-powered microinverters for 1 in 1 with output power up to 500VA Excellent flexibility and faster installation | Connect 2 panels with output power up to 1000VA with independent MPPT and monitoring | A high-powered microinverter with maximum output up to 2000VA and fast, safe installation |
| Excellent flexibility and faster installation Good adaptability to all kinds of module arrangement Greater energy harvest and easy maintenance | Row 3, Content 1 | Row 3, Content 2 |